On 30 March 2001, with only a day left to go of the ski trip, Rona "bit the piste," as they say, coming down from La Masse in Les Menuires, France. A slow-motion fall in muddy slush less than 100 yards/meters from the end of the run, the total damage was:
Left Leg: Multiple fractures of tibia and fibula (the bones between the knee and the ankle).
Right Leg: Tibia plateau fracture, which essentially means the top of the bone on which the knee sits was crushed.
End result: Surgery on both legs, each lasting about four hours, putting the bones in the left leg back together and rebuilding the support for the right knee, leaving behind metal plates, screws and assorted other hardware.
Luckily, since the hospital was in the middle of the French Alps in a village called Moutiers, most of what they did there was putting skiers back together, so they knew what they were doing, and apparently did a good job.
Note: We had excellent
travel medical insurance
from American Express which covered us for everything, including getting us home in business class with a private nurse accompanying us. The insurance is relatively inexpensive ($160 for the two of us for a year (not per trip),$99 for an individual policy) and was worth it's weight in gold. For those of you who have asked us about how to get this, there is a toll free number (which is only good in the U.S. unfortunately) to ring to get information about the policies, which is 1-800-297-2900.
Since we had to bring the French x-rays home with us to give to the doctor here, we had a chance to scan a few of them in before we parted with them the morning after our return.
Below are small images of the x-rays.
Click on any of them for a larger view
.
First there was the boot! Straight from Star Wars Central Casting. (There was also a brace on the other leg, but it was a pain to put back on for the photo.)
NOW they're both gone! Well, the brace is gone, and the boot is only needed for "long distance" walking (i.e., leaving the apartment). But the doctor has pronounced Rona well on her way to skiing again, not to mention biking and even walking.
For those of you interested, here are the latest
x-rays
taken on 2 July (click on them for a larger view). On the left leg you can see the small spot that's still not yet healed.
Left Leg

Right Leg (knee)
September 2001 Update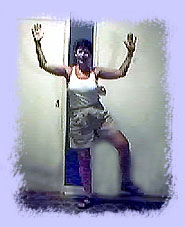 Look Ma! No crutches!
She's back! She can walk withhout crutches, but is using one crutch (some of the time) as advised by the doctor until the bones, which have healed, completely harden.
And she's back on a REAL bike.
Physical therapy starts and she's back at the gym in spin class.
The scars are fading fast, and it won't be much longer until this is all a thing of the past. Thank Heaven. It's certainly been long enough.
March 2002 Update
Many of you have been looking for an update for a while. Sorry for the lack of news, but there was nothing really to report. Progress was slow but steady. Although the crutches were a thing of the past as of mid-November, walking down stairs remained a major obstacle, and there was still a not insignificant amount of pain. After a somewhat disappointing visit to the doctor in late November, Rona was told that NO she was not going to be able to ski at Christmas, which had been her goal.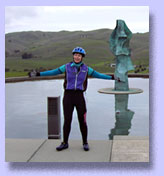 Ah, California!
Never mind. A bicycle trip to the California Wine Country with Backroads was a more than adequate substitute for the end of December. Fabulous hotels, fine dining, and 40 to 50 miles a day of cycling (no problems with that).
The early February visit back to the doctor pronounces her safe for skiing once again -- with the only caveat to "take it easy."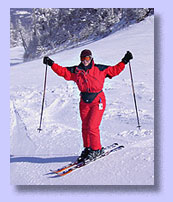 Back on the slopes!
So on 27 February, a few days shy of 11 months after the accident, Rona returns to the slopes at Stratton Mountain in Vermont. A few hours with a private instructor, and VOILA, it all starts to come together again, thanks in part to the new shorter carving skis. Slow to start out, and the ol' legs need some strengthening yet, but in two days she's back on the black diamonds (OK, we know the diamonds at Stratton aren't that tough, but it's a start). Later this month we're off to Utah for a week of skiing.
And so this will be the last "accident update" for this page. What more is there to update, after all?
November 2003 Update
Well, famous last words at the end of the last update. Remember that plate in the left leg?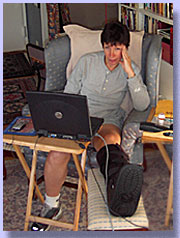 It's deja vu all over again.
(Click
here
to be reminded.) Well, after two and a half years of pain in that leg that just wouldn't quit, the decision was made to "remove the hardware," as they say (plate and 11 screws). The bone had healed perfectly, and the only problem was that "subcutaneous mass of metal" around the ankle that was causing all sorts of pain -- skiing, hiking, walking more than a few blocks... running remained impossible. And then there were the weather effects (cold, dampness, etc). After consulting Dr. David Helfet at the Hospital for Special Surgery about it, it was clear that the only thing to do was get rid of the damn thing.
The surgery was performed by said doctor on Wednesday, November 5, 2003. Everything went very smoothly with no complications. Overnight in hospital. Two weeks on crutches with no weight on the leg. It's tough to be a gimp again, but it's not the same long haul as the original accident. Expected recovery time: six to eight weeks, after which Rona should be "good as new." Then it's back to the slopes with no excuses anymore!
March 2004 Update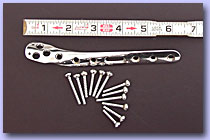 The inside ... out (click to enlarge)
One last thing ... here it is -- the plate, now on the outside. Six and a half inches long, it's 4 mm (3/16 inch) thick as well, and weighs 3 ounces (80 grams). No wonder it hurt. There were apparently 12 screws. You could only see 11 on the x-rays, and there's only space for 11 on the plate, but the hospital sent me back everything that was in my leg (after four months), so that last one must have been somewhere.
The best part is that the pain in the left leg is COMPLETELY GONE! What a relief. (However, it must be mentioned that physical therapy this time around, while very necessary, was NOT pleasant.) However, that's over now and it's feeling like nothing ever happened to it. Unfortunately, we didn't get to do any skiing this year because of our trip to New Zealand for most of February, but can't wait to hit the slopes next season.