In November 2002 we spent a week hiking on the island of Mallorca with our friends Frank and Jennifer from Sheffield (who you may recognize from the
trek to K2 Base Camp
). For those of you who are geographically challenged, Mallorca is one of the Balearic islands in the Mediterranean, off the coast of Spain, and is actually a part of Spain. It's a beautiful island usually thought of as a summer beach resort centered in the capital city of Palma. At that time of year the island is a mob scene of Europeans roasting themselves in the blazing sun, and drinking themselves into oblivion at night. But in November it's totally quiet, and the weather (luckily for us) was beautiful -- sunny and cool during the day and chilly in the evenings. Perfect for a week of hiking.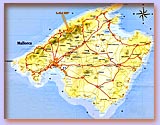 Mallorca map.
Although it is known for its beaches, the developed resort-area is limited to the (long) strip of beach near Palma; but the rest of the island is remarkably undeveloped and mostly untouristy, or at least has a minimal amount of tackiness. In fact, the western part of the island is quite mountainous and is criss-crossed with a myriad of hiking paths. The four of us rented a house in a small town in the southwest called Fornalutx (pronounced "Fornaloosh" -- the "tx" is pronounced "sh" in Catalan, the language of the island), and drove somewhere each day for different walks. We concentrated our explorations in
the southwest of the island
as the distances, while not great, took significant amounts of time on narrow winding roads.
We flew into Palma from London, and met up with Frank and Jennifer at the airport when they arrived on their flight from Manchester. (Note for US residents wanting to go to Mallorca: you can save a fortune by flying to London first and picking up an inexpensive flight to Mallorca on either EasyJet or BMI. Flying from the US via Spain is significantly pricier.) We picked up our rental car, and drove to an assigned meeting place near Fornalutx, where a representative of the company that rented us the house met us and had us follow him through Soller, the nearest big town, into Fornalutx and the exact location of the house. It was a fairly harrowing drive trying to keep up with him through the warren of tiny streets in Soller, but we managed. We were given a tour of the house and some tips on where to park and how to mangage other aspects of our week in Fornalutx.
Fornalutx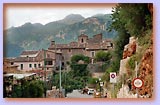 Fornalutx
Fornalutx is described as one of the prettiest villages on the island. No argument here.

Fornalutx
Hanging on a hillside, beautiful golden stone buildings, narrow winding streets, some only wide enough for pedestrians. Bouganvillia plants everywhere. Totally charming. Apparently, ex-pats of every nationality had already discovered it, and 50 percent of the houses were owned by foreigners. The house we rented was owned by an Australian couple who were only in residence a few months of the year. Because of this foreign interest, the house prices had soared, and those we saw in advertisements in the windows of some of the village's property agent windows were astonishingly high.
With so many foreigners, and the locals fairly well off as a result, they managed to support three decent restaurants in this tiny hamlet. Two served local Spanish food (although they kept asking us if we wanted chips with everything we ordered, even paella), and one a pizza restaurant (great pizzas) owned by a transplanted Scotsman.
| | |
| --- | --- |
| | Click here for a slide show of the beautiful village of Fornalutx. |
Our House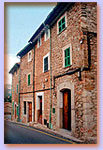 Our House
The house we rented belongs to some ex-pats -- Aussies, we thought. It was called "Casa Tim y Gully," presumably their names. They had done a fabulous job of renovating the place. It had a traditional yet very comfortable feeling to it. One thing they did was to add a lovely roof deck on the top, as well as an artist's studio just below that. It was quite spacious for the four of us, with three bedrooms, two bathrooms (one palatial, one with an excellent shower), a reasonable kitchen and a sitting room with a wood stove. It was situated on the main road into the town center, but traffic noise was not really a problem. We thoroughly enjoyed our stay at Casa Tim y Gully. For a vacation in warmer months, one might appreciate a house with a yard and a swimming pool (which are also available), but for November, this place was cozy and perfect.
| | |
| --- | --- |
| | Click here for a slide show of Our House. |
Port de Soller and Vicinity
Soller and Port de Soller were the two big towns nearest to Fornalutx. Soller was an attractive place with impossibly narrow (two-way) winding tree-lined streets and lots of character. Mostly we went there to go to the supermarket and to park the car. There was a bit of a parking problem in Fornalutx. Basically, you couldn't leave your car anywhere in the village during the day without risking getting it towed away. This generally wasn't a problem for us since we took it somewhere else every day to the start of a walk.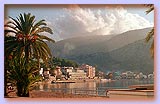 Port de Soller
Port de Soller, its sister town, is a sizable beach resort a few kilometers away. It has a particularly lovely location on a large horseshoe-shaped bay, fringed with palm trees, with forested mountains as a backdrop. There was even a classic lighthouse overlooking everything. The whole place was very picturesque. And decidedly sleepy, it being very much the off-season in November. It would clearly be unpleasantly crowded in summer, although it is more of a family resort than the wild scene found around Palma. Still, the waterfront had a nice atmosphere, and it made for a pleasant place to stop for a beer after several of our walks.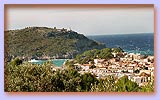 Looking across to the lighthouse
There was also a
tram
that went directly from Port de Soller back to Soller; it ran right along the edge of the bay in the port, where there was a long strip of restaurants and cafes. This was very convenient for us since we often made use of the free car park in Soller during the day, and we would stop here for a beer before making our way back to the car. Interestingly, the trams were old San Francisco streetcars recycled into use here on Mallorca.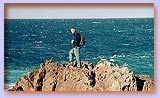 On the coast
Our first full day we took a short warm-up walk which started in the Port de Soller. We climbed up the hillside and then down to the sea, to view the rocky shoreline and the bright blue water. It was extremely windy that day, and the water crashed picturesquely onto the rocks along the shoreline. After some time at the water's edge, we climbed back up to see the Torre Picardo, from which there were beautiful views across to the surrounding mountains.
| | |
| --- | --- |
| | Click here for a photo tour of Soller and Port de Soller |