In July 1999 our friends Steve and Alena were getting married in the Czech Republic, and since we were travelling that far to go to the wedding, we decided to make a holiday out of it. So we spent the week before the wedding on a self-guided bicycling trip across the country, then a few days visiting Prague. A self-guided trip means that while a company set up the routes, hotels and rental bikes, and arranged for our luggage to be transported from one hotel to the next, we were otherwise on our own. No group, no leader, no sag wagon to pick you up if you were tired. We were a bit concerned about being on our own since neither of us spoke a word of Czech, but we managed to communicate most of the time. Outside of Prague, it was rare to find anyone who spoke English.
Here is the route the trip would take us on, from Vienna to Prague. The wedding was in Zlin, in the eastern part of the country.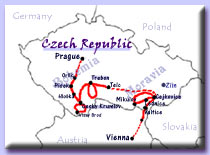 Day 1 -- Vienna to Cejkovice
We started off spending two days in Vienna, where we did some sightseeing and got over our jet lag. We were picked up at our hotel in Vienna on a Monday morning and driven 40k north to a small town called Shrick -- really, it was just a few houses at a crossroads. Here we were set up with our bikes and given the directions. The local tour operator, Jerry, had brought the wrong size bikes (so much for the fax we sent with the information about this to the US tour operator), but this was fixed when he showed up along the route an hour or two later with a bigger bike for Mark (and I took his). A good thing, as we had 80k to do that day, and riding that distance on a bike that's too small can do damage to your knees. The directions were interesting too -- not written in the best of English, which loses its charm when you are trying to figure out which route to take.
After a few hours of riding through the Austrian countryside, we came to the border
Crossing the border
with the Czech Republic. It was interesting doing the border crossing on a bike. The Czech border guard looked at us and looked at the sky behind us, and with a deep chuckle, pointed and said "rain come." We turned around and noticed that the sky had turned black. Oh great.
We had just enough time for a brief stop at
Valtice Zamek
,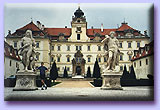 Valtice Zamek
a few kilometers down the road from the border (it was closed on Mondays, so we couldn't visit the interior). A "zamek" in Czech is a chateau, and the countryside was filled with them, as well as with many "hrad" (castles). This area in particular, being part of the Hapsburg empire once, was loaded with zameks as well as a number of "follies" built for the amusement of the gentry. More on this on Day 2.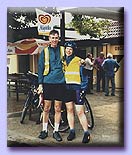 Stopping for a beer
Rather than ride through the downpour that started soon after we left Valtice, we ducked into a small tavern.It was purely a local's place, but we got under the meager shelter there and had our first Czech beer. The price was an astonishing 9 crowns for half a liter of some of the best beer I've had in my life. That's about 30 cents. We never did have beer that cheap again -- generally it was about 20 crowns (and 50 in Prague) for a half liter, but with the exchange rate at about 35 crowns to the dollar, it was still pretty amazing. I should also add that I'm not much of a beer drinker, but the beer there was delicious. I drank more beer in those two weeks than I've had in the whole rest of my life probably. It was that good.
After about half an hour the sun came out, and so we set off again. We still had about 20k left to go.More vineyards, rolling hills; really lovely countryside. South Moravia is the prime wine-growing region of the country -- the rest of it concentrates on beer.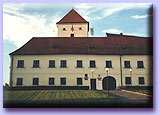 Hotel Zamek
We finally arrived in Cejkovice, our home for the next two nights. (There's a little cap on the first C, and it's pronounced "chay-ko-vee-tsay.") The entire length of the town, almost 1k, was cobblestone, which quickly loses its charm when you're on a bike. the hotel was quite an amazing thing.

An interesting sundial
It is called Hotel Zamek, which translates as "Hotel Chateau." But in this case it should have been more like "Hotel Fortress." Because it had been a fortress of the Knights Templar on the way to the Crusades back in the 11th century. Fortunately the electricity and plumbing have been updated since then. It was a fantastic place. The walls were a meter or more thick. You rode up through an archway to a giant internal courtyard. Inside everything was all cool and sleek and modern.The rooms had sort of a monastic feel, but this was set off by muted colors and light wood furniture.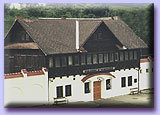 Wine Cellar
We had dinner at a wine cellar that was just across the road from the hotel.The restaurant was down a long downward-sloping dark passageway in the cellar itself. Each dinner party got their own little cave, complete with vaulted ceiling. Food was pretty basic, but not bad. The wine list was extensive, but the prices were unbelievable.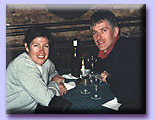 Us after 2 bottles of wine ...
The most expensive bottle (which we ordered) was $6. That was for a Cabernet, which wasn't that great, but the bottle of sauvignon blanc that we had after that was superb, especially since it was $3. So by the time we made it through two bottles of wine, we were feeling no pain, and drifted back to the surface and our fortress-lodgings. A good night's sleep was definitely had.
Day 2 -- Cejkovice - Lednice - Mikulov - Cejkovice
We had a fairly ambitious circle route itinerary for the day, not because it was particularly long, but there was a lot to see, so a lot of stops to be made. Total distance was about 40-45 miles (about 70k).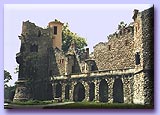 Januv Castle
The first part of the ride (after two rather daunting hills) was through small villages and farmer's roads through vineyards and fields. Really nice and quiet. Then we did a bit of off-road riding through the woods to arrive at some "ruins," in quotes because it was actually one of the many "follies" that was built by the Lichtenstein family who controlled the area in the 18th and 19th century. It is called Januv Castle. They also built a huge minaret (purely for show) that you could see from the main road. In the forest, if you followed a marked trail you would come across some of these other follies:
| | | | |
| --- | --- | --- | --- |
| | | | |
| Rendez-Vous Temple | Three Graces Temple | Apollo Temple | Huberta Chapel |
Lednice Zamek
Our next stop was
Lednice Zamek
which was quite impressive. An immense gothic structure with a fabulously huge greenhouse attached to it, and beautiful formal gardens. Unfortunately the greenhouse was being renovated, so we didn't get to see all the exotic flora that usually resides in it.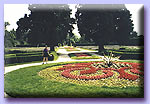 Gardens
There were no English language tours of the chateau offered to the general public, but we lucked out by being able to tag along with a private tour being done for a small English walking tour group. The tour was fascinating.One room had an enormous intricately carved wooden spiral staircase that had been made from one tree trunk. It had taken seven years to complete. And the ceilings in the place were magnificent -- all carved, some left natural and some fantastically painted. Then there was the finely detailed portrait of one of the lords of the manor which, upon closer observation, was actually a mosaic, made up of thousands of the tiniest bits of stone I've ever seen. It was all really lovely; a bit over the top, as these types of places usually are, but really worth seeing.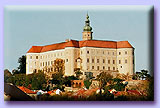 Mikulov Castle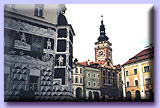 'Sgraffiti in Mikulov Main Square
Our next destination was the town of
Mikulov
, 12 (somewhat uphill) kilometers away. Mikulov had been a significant cultural center for the area though most of the history of the country, back to the middle ages.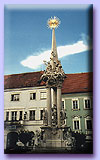 Plague Column
We found our way to the middle of town, which was actually quite a beautiful place. We were only at the half-way point in our day, so we didn't do alot of sightseeing. There was a significant castle, and the main town square was brilliant, with the first of many buildings we would see covered in what is called "sgraffiti" -- the buildings are painted beautifully, sometimes with a trompe de l'oeuil effect. There was a fantastic black and white example in Mikulov. There was also the first of many Plague Columns in the main square. It seemed that almost every town had one of these -- a big Baroque carved stone column in the middle of town that was erected in gratitude for protection against the disease.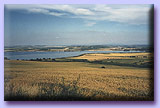 Palava Highlands
After Mikulov, we climbed a long hill into the Palava highlands, where we passed (real) castle ruins, and had magnificent views of the surrounding countryside. A swooping downhill brought us to the shores of a large lake, and then the rest of the ride back to Cejkovice and our fortress-hotel was mostly a flat spin.